Impact Investment: Land Covenanters Victoria
Protecting our lands in perpetuity
IMPACT IN BRIEF
This new association will play a crucial role in elevating the value of private land conservation in Victoria and activate a number of activities to ensure that local, state and federal government bodies put the right incentives in place to encourage private land conservation.
Covenanting is a selfless and timeless gift to the future.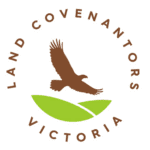 Since the 1970s, more than 1,500 Victorians have placed perpetual covenants on their land to protect it for future generations and the public environmental interest.
These landholders, who have saved around 72,000 ha of habitat for native plants and animals so far, invest significant time and money in managing the environment and implementing best-practice land management techniques.
While covenanters work with and receive support from Trust for Nature, Land for Wildlife, local councils, catchment management authorities and others, until recently there was no formal network to bring them together to share knowledge, advocate for tax incentives and greater recognition of the value of private land for conservation. 
Our process and contribution
Via our involvement with EcoGipps, Trust for Nature and a group of committed 'first wave' land covenanters, the Trust provided strategic advice, core funding and back-of-house support for the formation of Land Covenantors Victoria (LCV) in 2022.
With a highly experienced board now in place, LCV is initiating a number of activities to remove the barriers that prevent greater uptake of conservation covenants. This is not just in the interests of landholders; covenanting aligns to local, state and federal government sustainability and environment action plans.
LCV's  ambition is to see 200,000 hectares protected by 2037.
Impact
It's early days for LCV, but its establishment has been widely welcomed by the sector and the research community and membership is growing rapidly.
"The Rendere Trust and Jim Phillipson, in particular, has been instrumental in getting LCV off the ground. Together we're building momentum and starting conversations about the benefits of covenanting and how it provides a powerful way for individuals and families to take personal action to protect the environment.
"This is an inspirational new movement – one that will gain significant momentum over the coming years, allowing more and more people to leave a lasting legacy."
– Land Covenantors Victoria secretary, Diana Droog.