Future Leaders: Australian Wildlife Conservancy
Investing in conservation careers
IMPACT IN BRIEF
By encouraging and supporting AWC's hands-on Conservation Science Internship Program, we've helped to establish it as a world-leading program that now attracts philanthropists and supporters.
The program connects sponsors to interns and creates employment pathways, with around 62% of interns going on to further work with the AWC. Others have build conservation careers elsewhere in Australia and around the world.
The Australian Wildlife Conservancy (AWC) exemplifies the phrase 'one person can make a real difference in the world'.
Recognising that Australia's biodiversity was in decline, AWC Founder Martin Copley AM established a wildlife sanctuary in southern Western Australia in 1991. This small first step led to the creation of a new model of conservation. Today, AWC owns, manages or works in partnership on 31 properties across the nation, covering almost 6.5 million hectares in remote regions such as Cape York, central Australia and the Top End.
These sanctuaries and partnership areas protect more than 1,400 native species. It's a massive operation involving on-ground biodiversity monitoring, feral animal and weed control, fire management, the reintroduction of threatened and locally-extinct wildlife and research.
One of the keys to AWC's success is building a training and recruitment program for scientists that provides good-quality, hands-on experience. To date, 112 interns have graduated from AWC's world-leading Conservation Science Internship Program, with 15 science interns enrolled in the program in 2022. 
Our contribution
To empower future leaders, AWC established a comprehensive Conservation Science Internship Program in 2008.
The Rendere Trust's commitment to creating employment pathways for the next generation of conservation leaders led us to making a transformative investment in the AWC program, helping to cement it as a world-leading program that other philanthropists and supporters now actively support.
Many AWC interns have also gone on to work for other organisations, providing a rich source of talent for the sector.
Photo: AWC Ecologist Larissa Potter and then-Intern Ruby Albury setting a camera trap. Photo: R Wilson/AWC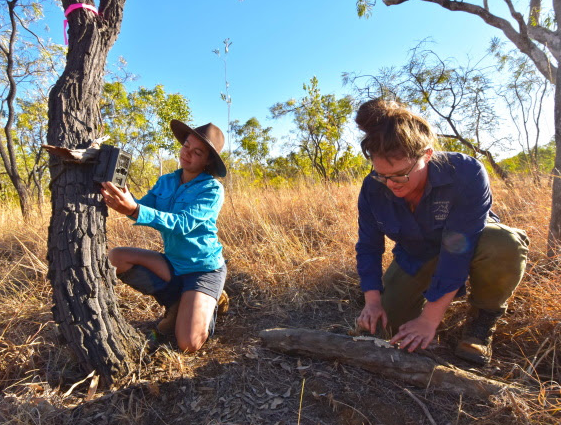 Rendere Strategic Director, Jim Phillipson
"This is a great investment in a young person's career – it's transformative. In this case, the sponsor has a direct connection to the individual or group, which is very personal and rewarding. The Conservation Science Internship Program is good for the graduate, good for the organisation and good for the sector – producing a deeper pool of talent. It is also good for the tertiary education system, providing a direct connection to on Country work for practical learning."
"There has never been a more important time to highlight the myriad of complex elements that go into effective wildlife conservation at an enormous scale across Australia. Through AWC's Conservation Science Internship Program, interns experience the challenges of real-world conservation and get the opportunity to learn from experts in the field.
"AWC's National Executive for Advancement, Amy House, joined the Executive Leadership Team in late 2021 to spearhead AWC's fundraising and development strategy.
"Your enthusiasm and advocacy for our work is just so motivating for all of us [and especially me] at AWC. Thank you for helping us to grow AWC's Internship program and showing us the potential of what can be."
– AWC Chief Development Officer, Shauna Chadlowe
"During their internship, the interns get to figure out whether applied conservation science is what they want to do and we get to know each intern and their compatibility with our business."
– AWC Chief Science Officer, Dr John Kanowski
"It was excellent to see first-hand how well threatened species are doing at Mt Gibson Wildlife Sanctuary in Western Australia and to have the opportunity to learn from a hard-working and experienced team of ecologists."
– Former AWC Intern now AWC Field Ecologist, Amelia Catterick-Stoll talking about her time as the South-west Intern.