Future Leaders: Arid Recovery
Learning in a living laboratory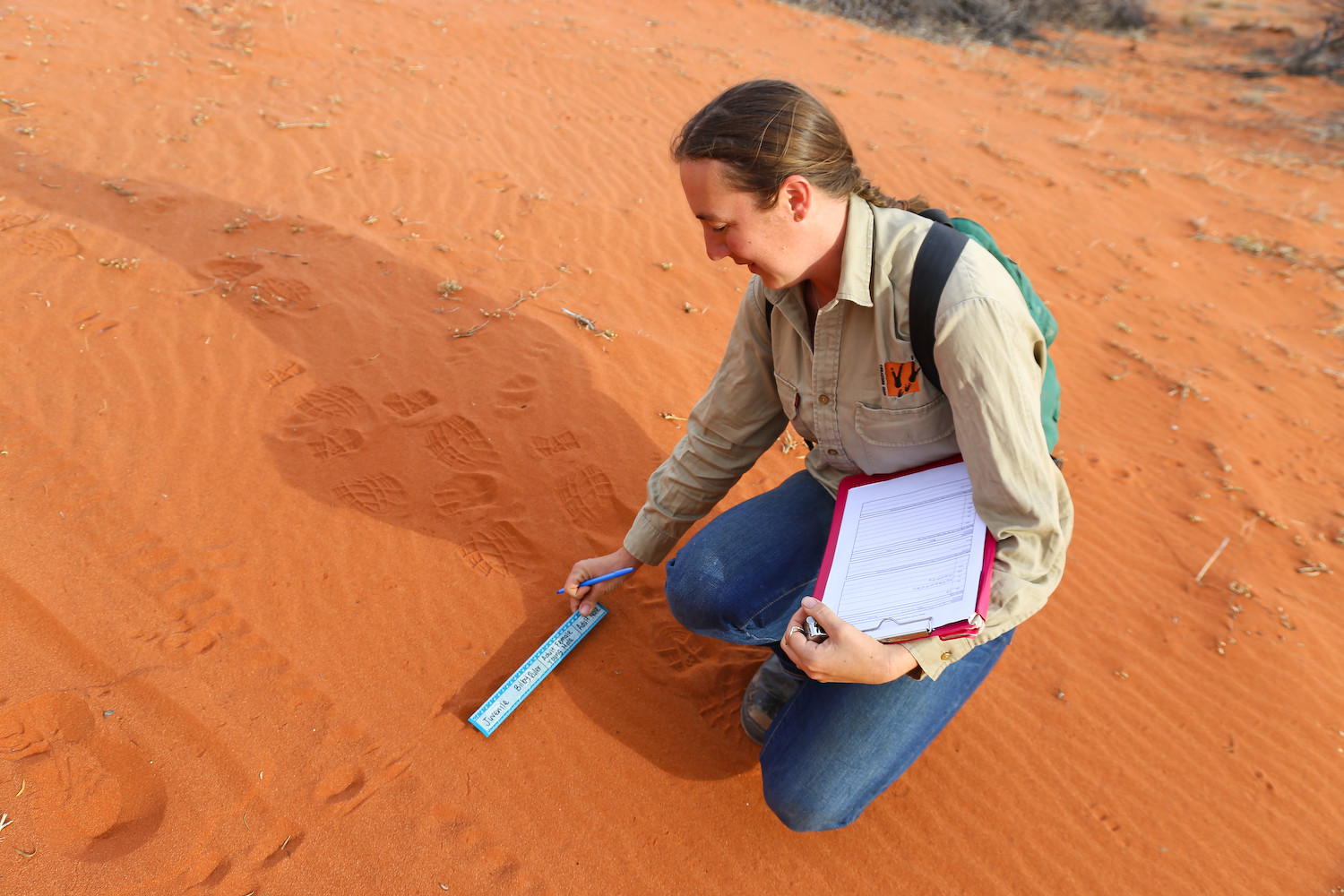 Impact in brief
In supporting Arid Recovery's commitment to empowering the next generation of conservation leaders, we co-fund the intern program. This gives 3 to 4 interns the opportunity to gain practical experience in the field each year, with many former interns going on to lead significant conservation projects.
Arid Recovery is a world-leading landscape-scale restoration project covering 123km2 of Kokatha country in South Australia's far north. The enterprise brings scientists, volunteers, collaborators and Traditional Owners together to restore ecosystems and protect arid country species.
Among the team's many achievements over the past 20+ years is the design of a predator feral-free fence adopted by many other reserves around the world, the re-introduction of five native threatened species and several scientific discoveries.
The Arid Recovery story is one of leadership. Founding scientists Katherine Moseby and John Read, along with Chief Executive Katherine Tuft, have done a remarkable job in establishing the enterprise, which is now supported by BHP Olympic Dam, the Department for Environment and Water, the University of Adelaide, Bush Heritage and the Kokatha Traditional Owners.
The extent of Arid Recovery's science program means that it needs to attract a steady stream of young researchers who will lend their energy and enthusiasm to the project. in return, the interns get the opportunity to experience working in a living laboratory.
Our process and contribution
Arid Recovery's programs are constantly evolving. To help the team meet their immediate and long-term challenges, the Trust provides strategic advice and funding, helping to build the strength and sustainability of the intern program. The Upotipotpon Foundation recently joined us in co-funding the program, which supports three to four interns per year.
Long-term impacts
Many Arid Recovery interns have gone on to make significant contributions to other programs or even help to create new ones. A great example is Team Kowari, a not for profit dedicated to the Kowari, a small marsupial carnivore related to the better-known Tasmanian Devil (*in 2022, the team reintroduced Kowaris to Kokatha Country in SA. Read the ABC story here.)
Jim Phillipson, Rendere Trust Strategic Director
"Our commitment to Arid Recovery is about building team strength and sustainability. A key part of that is ensuring that the team is in a position to attract next-generation researchers via the intern program.

"It's about practical science and connecting with communities in the arid centre."
"My big thanks for [Rendere's] ongoing support of our intern program at Arid Recovery.
"The value that you [Jim Phillipson] bring goes beyond financial support. I appreciate our conversations, the brainstorming to develop ideas and the check-ins on what's happening around the conservation sector.

"We're looking at a big year ahead for 2022 as we make major improvements to the fence and prepare to reintroduce Kowaris. We are also ramping up our research into climate change adaptation for arid ecosystems and safe havens. The next crop of interns will be right in the thick of all of that."
– Dr Katherine Tuft, Arid Recovery General Manager
Photo with thanks to Toni Fish via Flickr.